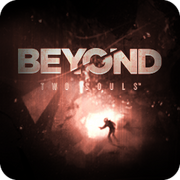 Teammates is a bronze trophy which can be achieved in Beyond: Two Souls. It requires the player to do 3 mischievous things with Jodie and Aiden. It can be achieved in the chapter My Imaginary Friend..., when Jodie, bored and aimless, performs minor feats around the house.
The player must, as Aiden, levitate the chairs into a pile on the dining table, turn on the radio, and hand Jodie a cookie. In order to accomplish the latter, the player must first look at the cookie jar atop the fridge as Jodie, and then press

to ask Susan for one. After being refused, the player can now switch back to Aiden, grab a cookie from the jar, and hand it to Jodie.
The trophy's name has been changed to Tight Duo in the PS4 version of the game.
Other Trophies Affected
Edit
Ad blocker interference detected!
Wikia is a free-to-use site that makes money from advertising. We have a modified experience for viewers using ad blockers

Wikia is not accessible if you've made further modifications. Remove the custom ad blocker rule(s) and the page will load as expected.